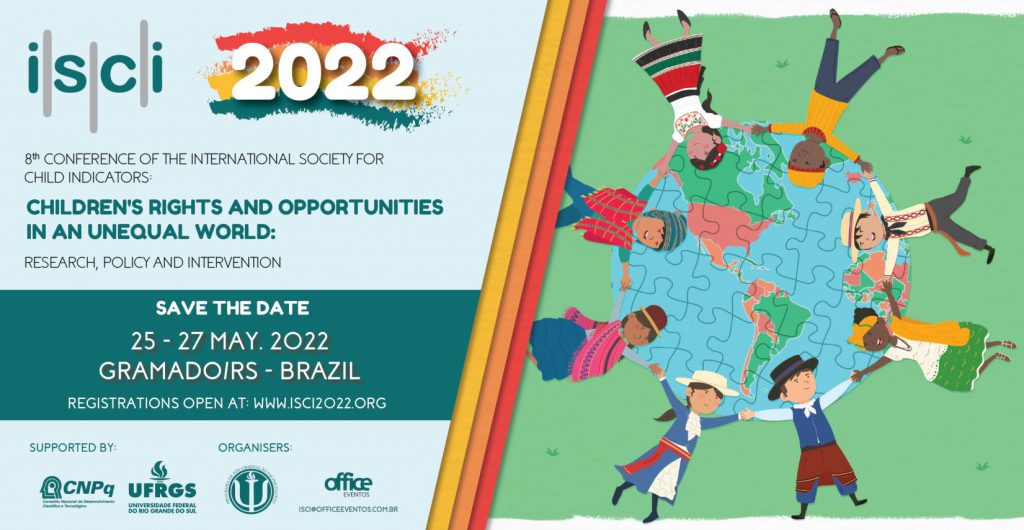 The Planning Committee of the International Society for Child Indicators (ISCI) announces its 8th Conference "Children's Rights and Opportunities in an Unequal World: Research, Policy and Intervention" which will convene in Gramado/RS, Brazil on May 25-27, 2022.
The general objective of the Conference is to bring together researchers from different continents in order to increase knowledge on the Indicators and Rights of Children and Adolescents. The event will provide a more critical view on Public and Social Policies and hopes to offer strategies, opportunities and strengthen spaces and contexts for the promotion of equality of well-being for all children.
The ISCI 2022 Conference seeks to highlight excellence, innovation and originality in research with political and practical implications. Academics working in the research of children's indicators in any country and of any theoretical reference are invited to send research abstracts.
You can find out more about the conference at www.isci2022.org
Updated information on the program, travel and registration will be posted regularly.
 CALL FOR ABSTRACTS IS NOW OPEN!
We welcome submissions in all areas using scientifically strong qualitative and/or quantitative methods, as well as panel presentations with evidence-based initiatives and participants from different sectors.
We encourage online submissions on the following themes and subthemes:
 Themes
Child-focused indicators of social trends, policies, and child well-being
Children's rights indicators
Child poverty, inequality and child welfare research
Innovations in research design and measurement on the focus of the Conference
The use of administrative data in child indicators work
Evidence-based practice models
Global issues on policy, measurement and child well-being
Child well-being development practices
Social support and education outcomes
Social media and well-being
Cross-country approaches to child well-being and indicators
Comparative methodologies for understanding children's well-being
Measurement issues related to child well-being and understanding children's lives
Subthemes
Physical and mental health
Subjective well-being
Rights of children and adolescents
Children's participation and voices
Poverty, deprivation, material well-being and inequality
Maltreatment, violence and bullying
Disabilities
Early childhood and adolescent development and education
Child care arrangements
Migration and refugees
Aboriginal and indigenous populations
Sexual identity and gender orientation
Climate change and the environment
Urban mobility
Impacts of COVID-19 on childhood and adolescence
Children and adolescents and the use of Information and Communication Technologies (ICTs)
Abstract submission deadline is 31st October, 2021.
We look forward to seeing you at ISCI 2022 in Brazil!
On behalf of the local organising committee,
Lívia Bedin and Jorge Sarriera
Chairs of ISCI2022 Local Organising Committee
Universidade Federal do Rio Grande do Sul, Brazil
Institute of Psychology