African Child Policy Forum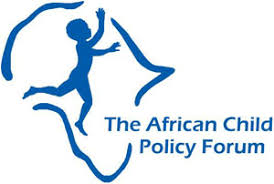 The ACPF is an independent, not for profit, policy research institute on the African child headquartered in Addis Abeba, Ethiopia.
By putting children first on the public agenda, the ACPF aims to contribute to the realization of children rights and wellbeing and to social and economic progress in Africa more broadly.
Guided by the UN Convention on the Rights of the Child, The African Charter on the Rights and Welfare of the child, and other regional and international human rights instruments, the ACPF aims "to specifically contribute to improved knowledge on children in Africa; monitor and report progress; identify policy options; provide a platform for dialogue; collaborate with governments, inter-governmental organisations and civil society in the development and implementation of effective pro-child policies and programmes and also promote a common voice for children in and out of Africa."
Though the African Report on Child Wellbeing, the ACPF regularly assesses the extent to which African governments are living up to their commitments and provides critical analyses of national efforts to formulate and implement child-sensitive laws and policies.